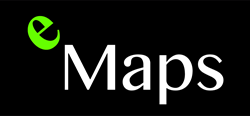 Fairfield, NJ (PRWEB) January 08, 2015
Vision-e announced today that it will release eMaps, a premier geo-location Salesforce application, for MobilePro at the 2015 USCG (NAAO) Agent Owner Partnership Conference January 12-14 at the Mirage in Las Vegas. The Vision-e team will be on-hand to answer any support questions from Agent Owners and present best practices for eMaps.
With eMaps, agent owners can view a client's contact information as well as maps showing the location of leads, current accounts and more. The app offers map view, satellite view, or street view, allowing sales representatives to quickly identify the location of their next client visit all behind the wheel of their car.
Not only can users view their web-based maps on their phones, they can also use the application's route-optimized driving directions, potentially cutting hours of drive time. Sales reps can find it easier than ever to navigate and plan their stops throughout the day with eMaps useful combination of Google Maps and Salesforce1.
Product Key Features

With eMaps, users can enjoy many productive features, including: Report mapping; customizable pin colors; map Chatter; map sharing; automatic route optimization; a drawing tool for free-form territory design and management; big data visualization with heat maps; and real-time traffic and weather.
Additional Resources

http://www.Visione.com
About Vision-e

Vision-e is a premier provider of Salesforce.com solutions. Vision-e helps businesses of all sizes and budgets streamline their Salesforce organization and become more productive, efficient and profitable. Made up of more than just consultants, Vision-e was founded by sales professionals who believe customers come first—no matter what.
From on-of-a-kind business productivity applications to customized services from certified Salesforce Administrators, Vision-e drives the ROI clients want and expect from their Salesforce investment.
"Vision-e provides elegant, highly customizable solutions that help companies of all sizes get the most out of the Salesforce platform. Vision-e: it's Salesforce…extraordinary." Jule Limoli, CEO, Vision-e

For more information on Vision-e, go to http://www.Visione.com or call 888-611-2679. Vision-e is headquartered in Fairfield, NJ.
###
Tags :
Agent
,
Announces
,
Conference
,
eMaps
,
MobilePro
,
NAAO
,
Owner
,
Partnership
,
USCG
,
Visione
,
Xerox
,
Big Data Analytics