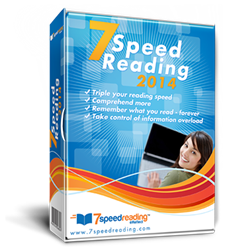 New York City, NY (PRWEB) October 26, 2014
Scholastic's Summer Reading Challenge has been a great success in 2014, as students enthusiastically embraced the initiative and broke last year's record of 176,438,473 minutes, eReflect announces. 304,749,681 minutes have been logged this past summer by the participating students, something that led Scholastic to declare the initiative a huge success, eReflect reports.
eReflect, a company that promotes reading through its best speed reading software, 7 Speed Reading™, congratulates all participating students for embracing this summer reading project. Reading is one of the most rewarding and eye-opening activities young people can engage in and Scholastic has managed to make summer reading an enjoyable and attractive pastime for millions of students worldwide.
While a speed reading course improves a person's reading pace and comprehension, eReflect asserts that students need to first become aware of the importance of reading in their lives, careers, and future. Reading is how people gain knowledge, learn skills, and improve their critical thinking and communication abilities. Speed reading only amplifies these benefits in view of its ability to help people read more in less time.
The Scholastic Summer Reading project achieved a world record on Summer Reading with over 304 million minutes logged by the students. This is proof that reading initiatives, when successfully promoted, can engage students and lure them into the exciting world of knowledge, something eReflect supports. 1,310,163 students from all 50 US states and 30 countries had registered for the Challenge in 2014, and over 406 schools surpassed the 100,000 minutes threshold.
As eReflect states, even if students are not very fond of reading, let alone summer reading, by improving their reading skills they will be able to see reading more favorably and recognize how beneficial and essential it is to their development. Once people learn to speed read they immediately get ahead of the pack; they can read more in less time, and saving time is an advantage no one can afford to pass up.
************

For more information about the benefits of using 7 Speed Reading, please visit the official website at http://www.7speedreading.com.
About 7 Speed Reading™
7 Speed Reading is the only modern speed reading software that uses the latest technology to produce superior results.
The software provides its users with a new way to master speed reading that guarantees three times the reading speed along with improved memory and comprehension.
The software is poised as the most comprehensive speed reading system anywhere. It contains seven learning strategies, fifteen software activities, video training, advanced tracking capabilities and many more exciting features.
Tags :
Applauds
,
Designer
,
Effort
,
eReflect
,
Promoting
,
Reading
,
Scholastic's
,
Speed
,
Summer
,
Big Data Challenges