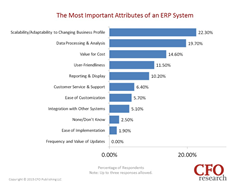 New York, NY (PRWEB) March 31, 2015
Selecting and implementing an enterprise resource planning system represents a major investment in capital, time, and attention. The success of an implementation depends on a host of factors, from the suitability of the software chosen to the effectiveness of consulting assistance.
To help CFOs avoid costly mistakes and ensure a successful ERP implementation, CFO surveyed 160 senior finance executives to seek out best practices and key learnings for effective vendor evaluation, vendor engagement, and system implementation.
"CFO research has consistently shown that one of the biggest obstacles to gaining the most value from an investment in ERP is, ironically, business growth," says Chris Schmidt, Director of Research at CFO. "Rapidly growing companies are often attempting complex planning tasks using hybrids of legacy systems, off-the shelf systems, extensions, bolt-ons, and point solutions. The purpose of this survey was to ask CFOs to provide critical advice and counsel to peers who are considering, or implementing, an ERP solution."
To read the complete special report "ERP: Lessons from the Field" go to: http://ww2.cfo.com/erp/2015/03/erp-lessons-field/
###
CFO Publishing and its Innovation Enterprise brand are the leading global voice in enterprise information and innovation providing access to cutting edge thought leadership content across 7 distinct channels including Finance, Big Data, Analytics, Strategy, Innovation, Digital, & Operations. We specialize in serving the information needs of the senior finance and business executive with focused and award-winning content targeted to the Chief Financial Officer, Chief Data Officer, Chief Strategy Officer, Chief Innovation Officer, Chief Digital Officer & Chief Technology Officer. In addition to content channels, our products and services include live conferences & summits, on-demand video content, webcasts, white papers, lead generation services, custom events and custom research. Whether it's delivered online or in person, everything we produce reflects the company's unshakeable belief in the power of information to spur innovation within and across the communities we serve.
Tags :
features
,
Field
,
from
,
Integration
,
Lessons
,
Magazine
,
Section
,
Special
,
Systems
,
Big Data Challenges