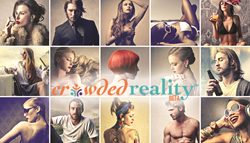 San Francisco, CA (PRWEB) March 24, 2015
Magellan Holdings, LLC, a leading provider of mobile OTT media delivery solutions, and Crowded Reality Inc, the worlds first crowd-funding platform for reality tv and talk shows, today announced a strategic partnership to stream new talk show Wake Up! "backstage" video content to mobile app users.
OTT delivery of content is now mainstream and quickly becoming the preferred delivery method, especially with recent net neutrality legislation in the U.S. and other countries around the world. OTT media delivery to custom mobiles apps is the new trend in media delivery by creating a unique "station / channel" for content owners. The Magellan OTT platform includes advertising, subscription, and pay-per-view capacities to enable immediate monetization of media content.
The first show to be fully funded, sponsored and distributed off the Crowded Reality platform, the show is hosted by the most beloved experts in Mind, Body, Spirit. Wake Up! is the show for the New Mainstream, providing insight into the answers people really want.
The brainchild of award winning producer Adryenn Ashley, a pioneer in the #SocialTV space, and Lisa Marie, a globally successful entrepreneur with a knack for cracking open new markets, the new multi-platform show app creates deep engagement with the audience though its Backstage Pass application, with more content, interviews, information and community. All the shows on the Crowded Reality platform have a #SocialTV component.
Wake Up! is about creating an atmosphere where the people who are "wondering about" can meet the people who "know about", inspiring all to start "being about" this new way of making the world a better place, adding their social currency to the power mainstream TV.
"We are creating weekly segments that will highlight topics driven by our social media outreach, answering questions, providing information in a easy going, conversational mobile app format. Magellan's OTT platform gives the viewing audience with a wealth of new exclusive media content and ability to stream previously aired weekly segments, and engage as a community, among a host of other features," said Adryenn Ashley, CEO of 21st Century Pictures Group.
"Crowded Reality fully understands the future of media delivery over OTT and the importance to have a custom mobile app for content owners to maximize brand and financial upside. Due to our platform approach, each successful TV series on the CrowdedReality.com platform can be quickly and at low cost configured to custom native mobile apps for a true 'station / channel' user experience," said Greg McGregor CEO of Magellan.
About Magellan Holdings, LLC

Magellan (http://www.magellanllc.com) is a San Francisco based software development company with significant experience in developing software to meet the most challenging applications. From a mobile industry perspective, Magellan's experience developing software applications for mobile network operator (MNO) infrastructure has span from 1G-AMPS, 2G-GSM-CDMA-TDMA, 3G-UMTS, and 4G-LTE.
Over the past 20 years, Magellan Holdings, LLC and its core team (Magellan) has patented (in most cases) and developed such innovated products as BT Cellnet's original Pay & Go, iBEAM's video streaming platform, QoS / QoE solutions for 3G / 4G LTE for Hutchison Whampao (3), CDNs for Loral Space Systems' satellite networks, advanced computer vision for retail auditing, object recognition technology with advertising applications, and data migration tools utilized by Workday and Google, among other large enterprises around the world.
About Crowded Reality Inc.

CrowdedReality.com, the niche crowdfunding platform, created by award winning producer Adryenn Ashley, offers show creators three ways to fund their show, through a system designed to reveal the reach of new shows, and to incite competition for the opportunity to sponsor or air each show. With algorithmic triggers that alert pre-screened and "vetted" sponsors, the site interacts with and introduces show-specific sponsors even before the funding cycle is complete.
Using a factor called Social Currency, tied to proprietary back end tools, CrowdedReality.com can calculate the reach and value to a sponsor and the demographic most interested in a show. This feature encourages sponsors to take action and secure their position with the show to leverage the social currency the show has built and gives potential sponsors the certainty they are looking for when choosing where to invest their marketing dollars, while leaving creative control in the hands of the show creators. Crowded Reality lets independent producers prove the viability of their reality TV and talk show concepts by crowd-funding the pilot, and using social currency, unlock access to sponsors and nationwide distribution.
In less than 100 days Crowded Reality has proven the concept, by fully funding one pilot, gaining $ 100K in sponsorship for talk show Wake Up!, and signing 2 shows into nationwide distribution. With over 11K+ visitors and garnering over 2.5M in social currency, Crowded Reality fulfills a gap in the marketplace between the command and control studio system and the new media makers who long for broadcast access.
Tags :
Agreement
,
Content
,
Crowded
,
delivery
,
Entered
,
into
,
Magellan
,
Over
,
Reality
,
Series
,
Show
,
Strategic
,
Talk
,
Big Data Challenges