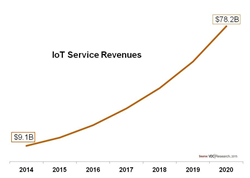 Natick, MA (PRWEB) June 18, 2015
Internet of Things (IoT) services revenue is expected to rise from $ 9.1 billion worldwide in 2014 to $ 78.2 billion in 2020, a compound annual growth rate of 43.2%, according to VDC Research (click here for more info). Such rapid growth of IoT services is enabled by the increase in cumulative installed base of Internet-connected devices—including those retrofitted with connectivity via gateways.
IoT-specific services include connectivity, device monitoring and control, data collection and storage, and data analytics. These services are provided by a wide variety of vendors who offer horizontal infrastructure and platforms, and/or vertical market expertise. Industrial automation is currently the largest market for IoT services, but automotive/transportation and medical/healthcare are the fastest growing sectors.
"Major companies from many technology fields are jockeying fiercely for early market positions because they see IoT services both as a growing, long-term source of direct revenues and as a pathway to incremental sales of their full ranges of products," notes Steve Hoffenberg, Director of IoT & Embedded Technology at VDC Research. "IoT services enable vendors to keep a foot in the door of their customers."
About VDC Research

VDC Research is a leading technology market analyst firm covering the connected world, focusing on embedded devices and enterprise mobility. Founded in 1971, the firm provides critical market intelligence to the world's leading technology vendors, who rely on its analysts for the data, ideas, and insights they need to make impactful strategic decisions with confidence.
Find More Data Analytics Press Releases
Tags :
2020
,
According
,
Billion
,
global
,
Reach
,
Research
,
Revenue
,
Services
,
Big Data Challenges