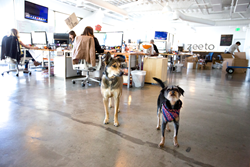 San Diego, CA (PRWEB) May 29, 2015
One of the nation's largest online lead generation companies, Zeeto, is proud to announce it has been recognized as one of the best places to work for millennial employees in the United States. Out of over 3,000 companies polled nationwide, Zeeto is excited to be named a top 75 finalist. The list, which comes on the heels of news that millennials are now the largest workforce in America, is the first of its kind to identify companies that excel at recruiting, developing, and retaining top millennial performers.
The full list of the Best Places to Work for Millennials and accompanying paper Unlocking Millennial Talent is available at: BestPlacesToWorkMillennials.com.
"This award is special to us because it recognizes Zeeto's unique culture and the things we're doing that appeal to millennials and what they're looking for in today's workplace," said Zeeto President & CEO, Stephan Goss. "We encourage employees to try new things – to come up with new processes and not be afraid of failure, but rather embrace it."
"If you are a millennial seeking a rewarding career or an employer who is managing or recruiting millennials, the Best Place to Work for Millennials is your resource," said best selling author and millennial expert Jason Dorsey of The Center for Generational Kinetics. "These are the companies that excel in creating a fulfilling work experience with what is now the largest workforce segment in the Unites States."
To find the best places to work for millennials, The Center for Generational Kinetics partnered with the workplace excellence research firm Best Companies Group (BCG), who manage over 50 "Best Places to Work" programs around the globe. BCG analyzed data from over 4,000 U.S. organizations that participated in BCG's various programs. BCG included policy and benefit offerings from the employer surveys conducted in the last 12 months.
As CEO, Goss has solidified Zeeto as a leader in the online lead gen space, with over 50 million leads produced last year. Under his leadership the company's revenue has doubled each year, bringing in $ 32.5 million in 2014, and is on pace to hit $ 65 million for 2015. Their flagship properties, Samples.com and GetItFree.us have cornered the coupons, deals and free samples market, attracting an average of 9 million visitors a month, while producing 7+ million redemptions in the last ten months.
With a culture of openness and transparency mixed with some of the best perks in today's job market, it's no surprise Zeeto has become a place millennials flock to. Zeeto boasts two full-time chefs that provide daily breakfast and lunch. A fully stocked kitchen with more amenities than you can imagine. The company brews their own beer – affectionately dubbed "Zeeto Brew" and barrel ages Manhattans. Two office masseuses ensure a stress-free environment. Employees are encouraged to bring their dogs to work. They have a hair stylist… laundry service…free annual tax service…yoga instructor, the list goes on. If employees are in the mood for a little more interaction, they can choose between Ping-Pong, darts, foosball, chess, or PlayStation. Outside the office, the company sponsors bi-weekly happy hours with a $ 2500 budget and free Uber rides. Paid field trips to Padres games, the Del Mar Horse Races, ski trips and brewery tours keep the company close together.
About Zeeto: Zeeto is a technology company that specializes in generating high ROI leads for clients across all verticals. With over 50 million leads generated in 2014, Zeeto has become a powerhouse in the performance-based online marketing industry. Our proprietary cutting edge technology uses custom in-house analytics and complex optimization algorithms to create a dynamic user experience that delivers the highest quality leads for online marketers, agencies and brands. Recognized as one of the Top 5 Places to Work in San Diego, we have some of the most creative minds and talented people in the industry.
About The Center for Generational Kinetics: The Center for Generational Kinetics is the global leader in teaching companies to better employ and sell to Millennials. The Center leads original research that uncovers new Millennial and generational trends in the workplace and marketplace. The Center solves Millennial challenges through research, speaking and consulting. The Center's clients range from industry leaders such as Mercedes-Benz and Four Seasons Hotels to venture-backed technology startups. The Center works with over 120 clients per year. Learn more about The Center and its mission to bridge generations at http://www.GenHQ.com.
About the Best Companies Group: Best Companies Group works with national and local partners around the country and internationally to establish and manage "Best Places to Work," "Best Companies," and "Best Employers" programs on a national, statewide, regional and industry basis. Through its thorough workplace assessment, utilizing employer questionnaires and employee-satisfaction surveys, BCG identifies and recognizes companies who have been successful in creating and maintaining workplace excellence.
Tags :
best
,
Millennials
,
Named
,
Places
,
U.S.
,
work
,
Zeeto
,
Big Data Challenges