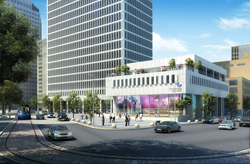 Atlanta, Georgia (PRWEB) November 21, 2014
Georgia State University will revitalize an area adjacent to Woodruff Park by creating a media production center for education, research and entrepreneurship and partnerships with the Georgia film, music, games and arts industries.
The media center will house the university's new Creative Media Industries Institute, an interdisciplinary institute introduced this fall to build on the university's strengths in media production, research, design, the arts, music management and digital publishing by preparing students for careers that transcend traditional degree programs.
A $ 22.8 million gift from the Robert W. Woodruff Foundation—the largest in the university's history— will fund, in part, the renovation of three-story structure formerly owned by SunTrust Bank at the corner of Edgewood Avenue and Park Place and major facility and streetscape improvements to the surrounding area.
"This is a transformative gift for our media and creative arts programs and will accelerate our ability to incubate new media companies," said Georgia State President Mark Becker. "It is also a major step forward with our Woodruff Park District plan that is helping to reshape downtown."
The media center will complete an academic corridor Georgia State has created on Park Place across from Woodruff Park. The university's purchase of 55 Park Place has created new homes for the Robinson College of Business and the Andrew Young School of Policy Studies. Georgia State's College of Law will relocate to a newly constructed building at Park Place and John Wesley Dobbs Avenue in the spring. The College of Arts and Sciences is in its new home at 25 Park Place on the same corridor from Edgewood Avenue to John Wesley Dobbs Avenue.
"The clustering of these programs around Woodruff Park will create an exceptional setting for educational and entrepreneurial collaboration," Becker said.
"We are excited that Georgia State University and the Woodruff Foundation are investing again on the east side of Woodruff Park in a major way," said A.J. Robinson, the president of Central Atlanta Progress. "This is happening at a time when real estate on the southern end and the western side of Woodruff Park are undergoing new renovations and new uses. Throw in the opening of the Atlanta Streetcar and it's easy to say that the development around the park is at an all-time high. Georgia State continues to lead the way on adaptive reuse of downtown buildings."
David Cheshier, chair of the Department of Communication, said, "This gift will enable us to launch new programs focused on media arts entrepreneurship, enterprises where artistic vision can build Georgia's creative culture and expand the infrastructure for sustained economic development. The research labs we're building will connect our programs to developments in virtual and applied reality technologies, media data analytics, games and interactive media, and audience research. We will build an iconic presence for creative industry programs in the heart of campus, visible to everyone who visits Atlanta and takes the Streetcar."
In addition to the commitment from the Woodruff Foundation, the Georgia Research Alliance has made a financial commitment that will be used to help equip Georgia State's Creative Media Industries Institute.
"The Georgia Research Alliance is proud to support the Creative Industries Institute at Georgia State University," said C. Michael Cassidy, president and chief executive officer of the Georgia Research Alliance. "The media industry in Georgia is experiencing tremendous growth and it is essential that we aid in providing opportunities for research, preparing the workforce and launching new companies. As an early investor in Georgia State's Digital Arts and Entertainment Laboratory, we have seen significant results from Georgia State's digital and film programs. We believe the Creative Industries Institute will be a major step forward in supporting this rapidly growing industry."
Tags :
Announces
,
Center
,
Georgia
,
Media
,
Production
,
State
,
Big Data Challenges