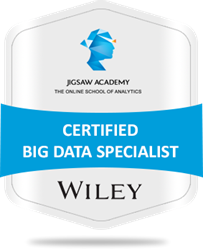 Bangalore, IN (PRWEB) August 20, 2014
Jigsaw Academy is excited to announce the launch of their Big Data and Hadoop Certification Course, jointly developed with Wiley, a global provider of content-enabled solutions. The course focuses on learning to process large and complex data sets and generating insights using Big Data tools and technologies. On completion of all the said requirements of the sixteen week course, students will receive a globally recognized certification in Big Data, jointly certified by Jigsaw Academy and Wiley. The certification exam will be conducted in multiple centers around the country.
The Big Data and Hadoop course curriculum is comprehensive and is generated and delivered by experts from all over the world. The syllabus is unique in that it includes an in depth coverage of all the popular and widely used Big Data technologies while also teaching how they are actually applied to mine and analyze data in real life. The Big Data technologies covered in detail include Hadoop, MapReduce, HDFS, SQOOP, FLUME, PIG, HIVE and IMPALA. Analytics coverage includes R, Integrating R and Hadoop, RHadoop and RMR Packages, Structured Data Analysis and Unstructured Data Analysis.
This course is designed for Analytics or IT professionals looking to learn Big Data skills and technologies. It will also be useful for Database professionals planning to enter the analytics industry and MBA Students/Recent engineering graduates pursuing a career in Big Data or Data Science
"The Big Data team at Jigsaw has really worked hard together with Wiley to develop this course and we are really excited about the launch. The instructors are all highly experienced industry professionals and so we are really able to give students a practical real life view of how to approach Big Data issues." says Gaurav Vohra, CEO of Jigsaw. "They also get to work hands on, on Hadoop clusters to manage large data, as well as other real world case studies that involve massive data sets via the Jigsaw Labs. We hope that this Big Data certification course will open doors for those who want a career in Big Data. This is also perhaps what the industry has been waiting for, as it will deliver trained professionals to fill the many Big Data positions lying vacant." continues Gaurav.
"The course content is of very high quality. Though the topics are quite complex, what's really great is that just like all their other courses, Jigsaw has been able to teach this one too in a fun and practical way, which makes learning it so much easier." says Umang Chugh, who was part of the pilot batch run by Jigsaw in May.
The Big Data Certification course will officially launch on 31st August. For those interested in learning more about the course, or if you have some specific information about the course content or methodology please visit the course page and sign up for a free information session on 20th or 24th August.
About Jigsaw

Jigsaw Academy is a Bangalore based analytics training company that is run by analytics professionals. Their courses are designed and delivered by industry experts who have applied analytics to solve business problems in a variety of fields like retail, FMCG, financial services, telecom and health care. The instructors use their real-world experiences to teach analytical skills that are most valuable at the work place. Their flagship course called the Foundation course in analytics has been taken by thousands of students across the globe and has helped launch many careers in this new and exciting field. They have recently completed analytics training workshops in B schools across the country, including IIM Bangalore.
Website: http://www.jigsawacademy.com

Blog: http://www.analyticstraining.com

Mail:info(at)jigsawacademy(dot)com

Phone +91-9243522277
Tags :
Academy
,
Certification
,
Data
,
Globally
,
Hadoop
,
Jigsaw
,
Launch
,
Recognized
,
Wiley
,
Big Data Analytics