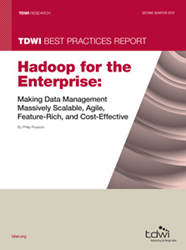 Seattle, WA (PRWEB) April 07, 2015
TDWI Research announced the release of its newest Best Practices Report, Hadoop for the Enterprise: Making Data Management Massively Scalable, Agile, Feature-Rich, and Cost-Effective. This original, survey-based research focuses on helping business users understand the many new products, technologies, and best practices that have emerged. It also helps readers map newly available options to real-world use cases, with a focus on mainstream enterprise uses while respecting tried-and-true IT practices and delivering maximum business value.


    Download the report
    Watch the Webinar on April 14, 2015
"Hadoop proved its worth as a highly scalable data platform for reporting and analytics in Internet firms and other digital organizations," notes Philip Russom, author of the report. In today's enterprises, he points out, Hadoop must prove its worth by satisfying stringent requirements that IT and business users demand, including handling exploding data volumes and getting BI value from non-structured data, among other drivers.
The report examines how Hadoop adoption is accelerating, and predicts that by 2016, 60 percent of respondents will have Hadoop in production, which it calls a "giant step forward" in Hadoop use.
Russom introduces readers to the variety of Hadoop drivers, including how Hadoop extends the life of other platforms while wringing value from big data. User stories illustrate Hadoop's benefits, including enabling modern data archive practices, and how Hadoop and other platforms can coexist in modern hybrid data architectures. Real-world users explain why Hadoop is important in their environments.
Report Highlights
This comprehensive report discusses:

    Use of Hadoop, from extending data warehouses and managing data archives to enhancing data exploration and discovery
    Hadoop's benefits (including data scalability and advanced analytics) and barriers (such as security concerns and a lack of skilled staff)
    How ownership of Hadoop is increasingly in the hands of central IT
    Job titles of those working with Hadoop, plus the multiple staffing strategies enterprises are combining to support the technology
    The types of tools available for Hadoop development
    Best practices for addressing Hadoop security, data quality, and data architecture issues
    Technical issues, such as a close examination of HDFS clusters and nodes
    Using YARN to make Hadoop enterprise grade
Russom explores modern trends in Hadoop implementations, as well as the top 10 priorities for making Hadoop enterprise grade, including comments about why these priorities are important.

This research was sponsored by Actian Corporation, Cloudera, EXASOL, IBM, MapR Technologies, MarkLogic, Pentaho, SAS, Talend, and Trillium Software.
About the Author
Philip Russom is a well-known figure in data warehousing and business intelligence, having published more than 500 research reports, magazine articles, opinion columns, speeches, Webinars, and more. Today, he's the TDWI Research director for data management, where he oversees many of the company's research-oriented publications, services, and events. Before joining TDWI in 2005, Russom was an industry analyst covering BI at Forrester Research and Giga Information Group. He also ran his own business as an independent industry analyst and BI consultant and was a contributing editor with leading IT magazines. Before that, Russom worked in technical and marketing positions for various database vendors. You can reach him at @prussom on Twitter and on LinkedIn at linkedin.com/in/philiprussom.
About TDWI
For 20 years, TDWI has provided individuals and teams with a comprehensive portfolio of business and technical education and research about all things data. The in-depth, best-practices-based knowledge TDWI offers can be quickly applied to develop world-class talent across your organization's business and IT functions to enhance analytical, data-driven decision making and performance. TDWI advances the art and science of realizing business value from data by providing an objective forum where industry experts, solution providers, and practitioners can explore and enhance data competencies, practices, and technologies. TDWI offers five major conferences as well as topical seminars, onsite education, membership, certification, live Webinars, resourceful publications, industry news, and in-depth research. See tdwi.org or follow us on Twitter @TDWI.
About 1105 Media
1105 Media, Inc., is a leading provider of integrated information and media in targeted business-to-business markets, including specialized sectors of the information technology community; industrial health, safety, and compliance; security; environmental protection; and home healthcare. 1105's offerings span print and online magazines, journals, and newsletters; seminars, conferences, and trade shows; training courseware; and Web-based services. 1105 Media is based in Chatsworth, CA, with offices throughout the United States.
###
TDWI Media Contact:
Christin Jamieson

425.277.9182

cjamieson(AT)tdwi.org
Tags :
best
,
Hadoop
,
Helps
,
Organizations
,
Practices
,
Products
,
Report
,
Research
,
TDWI
,
Technologies
,
Understand
,
Big Data Analytics