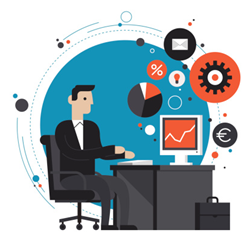 Gainesville, FL (PRWEB) June 12, 2014
SumTotal® Systems, LLC, the largest independent provider of learning and HR solutions, today announced its June webinar series focusing on how organizations can use HR information and other big-data analytics to improve workforce productivity, meet regulatory requirements and improve their bottom line.
HR departments house much of an organization's critical compliance and workforce data, but few have the learning-, workforce- and talent-management systems (LMS, WFM or TM) to analyze and interpret information real time because it's often stored in individual system silos. Studies show that:


More than 98% of the world's information is now stored digitally and the volume of the data is exponentially increasing, having quadrupled since 2007. (1)
About half of businesses lack confidence that they will be able to keep up with constantly changing human resources (HR) laws and regulations. (2)
Employment lawsuits have increased by more than 400% in the past 14 years. (3)
"HR's function historically has been driven largely by instinct. But today, with the ability to extract insights and information from big data, HR can now proactively shape an organization's culture and bottom line, rather than react to it," said SumTotal Senior Vice President of Products and Technology Humair Ghauri. "HR executives can gain an enormous amount of rich information about their workforce using analytics. From highlighting compliance and productivity data to identifying inefficiencies in processes, this information can transform an organization's ability to act and adapt to changing business environments. The value of big data and other integrated solutions in HR is undeniable."
SumTotal will host two webinars in June to discuss tactics HR, learning, talent and workforce executives can use to leverage big data to motivate employees, redefine processes, and harness technology and information to optimize the workforce.
Can Big HR Data Help You Avoid Compliance Surprises?

Presenter: Sarah White, Founder, Accelir

June 17: 2 PM EDT, 1 PM CDT, 12 PM PDT

Registration: http://talentmgt.com/events/view/compliance-surprises-how-big-data-can-deliver-business-insight

Webinar highlights:

Best practices for using big data to meet compliance and regulatory needs
Strategies for tracking, managing, analyzing and reporting sensitive business data
How you can increase your visibility into HR data for greater control and agility
Should HR Care About Big Data?

Presenter: Ed Cohen, Learning Industry Consultant

June 24: 1 PM EDT, 12 PM CDT, 11 AM PDT

Register at https://www1.gotomeeting.com/register/871367993

Webinar highlights:

Big data in the training world: where it should be applied and where it shouldn't
Why big data is important to upper management
How big data is currently a part of mobile, both in and out of the training space
Follow @SumTotalSystems and keep up with the conversation using the event hashtag: #STWebinar. Visit http://www.sumtotalsystems.com and check out the SumTotal Blog for more learning and talent management tips and perspectives.
About SumTotal Systems

SumTotal Systems, LLC, the largest independent provider of integrated HR solutions, is increasing the performance of some of the world's most successful organizations, including AstraZeneca, Amway, and Seagate. The only HR solution provider to deliver Talent Expansion, a whole new approach to discovering, developing and unleashing hidden potential within our customers' workforce, SumTotal delivers employee enablement solutions that help organizations become great places to work. SumTotal's people-focused applications, available on premise and in the Cloud, enable contextual, just-in-time development designed to advance employees' skills and knowledge. Today, more than 3,500 organizations, including several of Fortune's "Best Places to Work," rely on SumTotal's on premise and cloud-based Talent Expansion applications to enable their employees.
(1)They're Watching You at Work: What Happens with Big Data Meets Human Resources? http://www.theatlantic.com/magazine/archive/2013/12/theyre-watching-you-at-work/354681/
(2) https://www.adp.com/tools-and-resources/adp-research-institute/insights/insight-item-detail.aspx?id=5451C537-C2E1-44AB-9A93-140E16958B07
(3) http://management.fortune.cnn.com/2012/05/29/the-new-workplace-revolution-wage-and-hour-lawsuits/?iid=HP_River
Find More Big Data Presentation Press Releases
Tags :
Business
,
Compliance
,
Data's
,
Highlight
,
Role
,
success
,
SumTotal
,
Webinars
,
Big Data Blogs