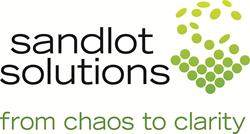 DALLAS, TX (PRWEB) April 09, 2015
Sandlot Solutions, a leading community health interoperability and analytics provider, today formally announced the release of its advanced, SaaS-based technology platform that expands the organization's big data capabilities into the interoperability space. The big data analytics technology platform allows for a single collection of community health data provided from a patient-centric point of view, spanning virtually every stakeholder in the healthcare community.
The platform is built using Sandlot's deep interoperability and workflow experience and serves as the hub for the organization's suite of community health management solutions, including Sandlot Connect, Dimensions, Metrix, Care Assist and Patient Portal. It brings data together from across the community of care, enabling the agile, real-time collection, transportation, viewing and analysis of clinical, claims, administrative and other healthcare-related data from a single, private and secure environment. It radically changes the way that these data files are collected and offers new ways of merging public and private datasets. This infrastructure allows providers to independently examine and explore large volumes of data and facilitates new levels of analytic insight.
"Sandlot's platform uses the tools and technologies developed for examining vast volumes of clinical documents and messages in near real time. This allows us to reduce the complexity and minimize the cost of integration, which are typically barriers to addressing community health management," said Paul Steinichen, Chief Technology Officer, Sandlot Solutions. "The timing and speed at which data is collected and then pushed out as useful information is key to helping healthcare professionals better manage the health of individuals and the population. By applying Web-scale technologies that have proven successful in other industries to the healthcare industry, clients can access the data needed more quickly and easily, providing accurate, up-to-the-minute information for care coordination and population health analytics."
As a highly scalable, cost-effective solution to clinical interoperability and clinical data standardization, normalization, aggregation and enrichment, this platform makes it simple for healthcare organizations to integrate with the Sandlot suite of products and eliminates the need to do extensive integration work. With this platform, Sandlot clients can take advantage of Web-scale technology advances and prepare their organizations to deal with copious amounts of data, regardless of the formation and structure of that data. To accelerate development of this platform, Sandlot selected Hortonworks® (NASDAQ: HDP) and the Hortonworks Data Platform (HDP™) as a base on which to build the platform. HDP is a modern data management platform with the centralized enterprise services required for running advanced analytics and data processing applications simultaneously across shared datasets.
"Sandlot is driving innovative work with data analytics in healthcare," said Herb Cunitz, President, Hortonworks. "The company realized the value of our HDP, the market's only 100 percent open source and enterprise grade Hadoop distribution, and how they could easily build their applications on top of our platform. We look forward to helping them continue to break new ground and accelerate their SaaS business to a wide range of healthcare customers."
While this platform offering is available now to all market segments of the healthcare community that Sandlot serves, the initial rollout is focused on hospital associations, large metropolitan area healthcare cooperatives and state-wide community health management organizations.
Sandlot Solutions will exhibit at HIMSS15 in Chicago from April 12-16, Booth #2641. Attendees are invited to visit the booth to learn more about Sandlot's big data analytics platform and the company's full suite of integrated solutions.
About Sandlot Solutions

Sandlot Solutions, founded in 2006, is a leading provider of clinical interoperability and community health management solutions focused on: the exchange of clinical and claims data across the care community, population data analytics and enhanced care coordination. Sandlot provides the tools and technology that enable healthcare organizations to improve the quality of care, understand and manage risk, reduce costs and transition to new business models. The software-as-a-service, cloud model with configurable technology streamlines data sharing and provides physicians with actionable patient information and analytics at the point of care. Sandlot's technology works within physicians' existing workflows using a proprietary, patent-pending digital envelope enabling physicians to proactively address gaps in care at the point of care. For more information, visit http://www.sandlotsolutions.com.
Tags :
Advanced
,
Analytics
,
Announces
,
Data
,
Platform
,
Sandlot
,
Solutions
,
Big Data Analytics