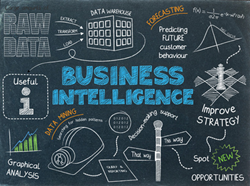 New York, NY (PRWEB) December 08, 2014
The rise of big data has brought an avalanche of information into the enterprise and increased the demand for real time analysis and insights to support business goals and identify avenues for growth. In tandem, the rapid development of enabling technologies are continuing to push the boundaries of bigger, better, and faster.
In his executive keynote at the upcoming Business Intelligence Leadership Summit, Joe Caserta, president of consulting and technology innovation firm Caserta Concepts, looks at business intelligence trends and addresses the role of existing and emerging technologies in big data analytics. The conference takes place in New York City on Wednesday, December 10 from 9am – 6 pm at the Hilton Midtown Hotel.
"In his role as president of one of the top big data analytics firm, Joe Caserta brings a real-world perspective to business needs and technology trends," said Wayne Eckerson. "Our goal for the summit is to foster discussion among the many business and IT leaders present at the event and Joe plays an important role in achieving that."
Joe's Executive Keynote, "Architecting for Big Data: Trends, Tips, and Deployment Options," addresses what is needed to effectively leverage enterprise data, and assesses the BI and data management tools necessary in a big data environment.
The daylong Summit opens with remarks by Wayne Eckerson, principal consultant at the Eckerson Group, examining the role of Hadoop in big data. In addition to Joe Caserta, presentations by other industry leaders and analyst firms take a look at big data analytics, the related technologies of Hadoop and NoSQL, and the overall performance and scalability needs of data-intensive applications dominating today's workplace.
For registration information or to learn more, go to the BI Leadership Summit
About Caserta Concepts:

Caserta Concepts is a New York-based award-winning technology innovation-consulting firm specializing in big data analytics, data warehousing and business intelligence. With a worldwide network of professionals, Caserta Concepts collaborates with CIOs and their IT organizations to help them gain new business insights by maximizing data value. The company was founded in 2001 by internationally recognized data warehouse authority and author, Joe Caserta, and was recently selected one of 2014's 20 Most Powerful Big Data Solution Providers.
For more information, please visit Caserta Concepts

Connect with Caserta Concepts on Twitter (@casertaconcepts) and Joe at LinkedIn

You can also follow Joe Caserta on Twitter at @joe_caserta.
Tags :
Analytics
,
Architecture
,
Business
,
Caserta
,
Data
,
DataDriven
,
Enterprise
,
Intelligence
,
keynote
,
Leadership
,
Summit
,
Transforming
,
York
,
Big Data Opportunities