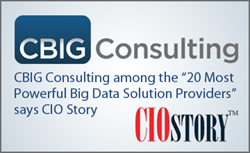 (PRWEB) October 07, 2014
International Big Data and Business Intelligence firm CBIG Consulting picked up another accolade recently from CIO Story, a technology industry publication that identifies CBIG as one of the "20 Most Powerful Big Data Solution Providers" in its September 2014 special issue. The listing is a compilation of leading enterprises that offer technology solutions and platforms to solve new problems that were not being addressed by yesterday's solutions.
A CIO Story representative stated that in the last few months, its editorial team researched over 500 Big Data specialists that work in Big Data, Big Data Consulting, Big Data Infrastructure, Big Data Management, and Big Data Visualization, among other categories. The goal was to identify and profile the top 20 companies that are at the forefront of tackling Big Data challenges.
CBIG Consulting's profile focuses on how CBIG offers Strategic BI and Big Data Analytics solutions and services that go way above and beyond the technical logistics and approaches that other firms typically employ. CBIG spokesperson John Onder said, "We were told that CBIG's Big Data framework and innovative rationales behind our Big Data solutions made it clear that CBIG knows what works, and has field-tested these solutions for many years. We appreciate the recognition, and want to acknowledge all the hard work on the part of our staff. They drive our business forward."
About CBIG Consulting (CBIG):

CBIG Consulting is an international team of experts in Business Intelligence, Big Data Analytics, Data Warehousing, and Cloud-based Analytics platforms. Selected by independent research firm Clutch (formerly SourcingLine) as well as CIO Review as a leading Big Data Analytics / Business Intelligence consulting firm, CBIG consultants average fifteen years of direct experience in the field. CBIG works with global enterprises, mid-size businesses, and non-profit organizations in solving mission-critical reporting and analytical needs. CBIG is headquartered in the Chicago, IL area, and has additional offices in San Francisco, CA, Boston, MA, Denver, CO, Austin TX, Raleigh, NC, Seattle, WA and Sydney, NSW, Australia. For more information, please visit http://www.cbigconsulting.com.
Tags :
Among
,
CBIG
,
Consulting
,
Data
,
Firms
,
Most
,
Named
,
Powerful
,
Big Data Analytics