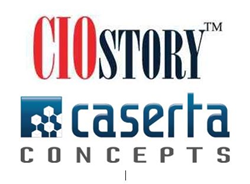 New York, NY (PRWEB) October 02, 2014
Caserta Concepts, a New York-based technology innovation consulting services firm that specializes in big data analytics, data warehousing and business intelligence, has been selected as a Top 20 Most Powerful Big Data Solution Providers in 2014. Through nominations and consultations with industry leaders, the editorial board of CIO Story magazine considered hundreds of companies and Caserta Concepts, at the forefront of tackling Big Data challenges for clients across a range of industries, was selected based on their technology strengths, consulting expertise and unique solutions benefiting customers worldwide.
"In the last few months, we have looked at hundreds of big data companies and shortlisted the ones that are at the forefront of tackling the real analytics challenges. It was clear to the distinguished panel of CEOs, CIOs, VCs, industry analysts and the editorial board of CIO Story that Caserta Concepts would be among the Top 20," commented Brian Kreiner, Editor-in-Chief of CIO Story.
Caserta Concepts has a depth of experience and expertise that make it possible for them to offer strategic big data solutions and partner with companies that offer advanced technology platforms. They work with clients to develop sophisticated and strategic BI solutions that meet real-world, practical business needs, and have been out in front of the data analytics revolution, providing solutions that integrate relevant best practices from traditional data warehousing and technologies of the big data paradigm including Hadoop, NoSQL and advanced data visualization products.
"We are honored to be named among CIO Story's 20 Most Powerful Big Data Solution Providers list for our leading work in big data analytics," said Joe Caserta, Founder and President of Caserta Concepts. "Each of our solutions has a direct impact on our client's operations as we implement technological innovation and work to maximize data value."
Read the Caserta Concepts feature article in the Big Data Special September 2014 issue of CIO Story magazine: http://www.casertaconcepts.com/wp-content/uploads/2014/09/CIO_Story_Caserta_Concepts.pdf
About Caserta Concepts:

Caserta Concepts is a New York-based technology innovation consulting services firm that specializes in big data analytics, data warehousing and business intelligence. With a worldwide network of professionals, Caserta Concepts collaborates with CIOs and their IT organizations to help them gain new business insights by maximizing data value. The company was founded by internationally recognized data warehouse authority and author, Joe Caserta, in 2001. For more information, please visit http://www.casertaconcepts.com Connect with Caserta Concepts on Twitter (@casertaconcepts) and LinkedIn at http://www.linkedin.com/company/caserta-concepts. You can also follow Joe Caserta on Twitter at @joe_caserta
Find More Data Challenges Press Releases
Tags :
2014
,
Caserta
,
Companies
,
Concepts
,
Data
,
Most
,
Named
,
Powerful
,
Story's
,
Big Data Challenges