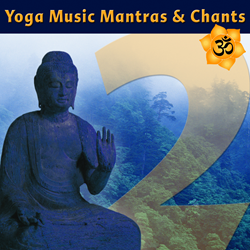 Boulder, Colorado (PRWEB) April 02, 2015
Leading yoga music label White Swan Records is pleased to release a second edition of the enormously popular Yoga Music Mantras & Chants – another super-set of trance-y devotional grooves , with tracks carefully curated by Boulder radio host and sacred movement DJ DubGoddess Selena. Like its remarkably successful 2013 predecessor, this digital-only collection offers the work of stand-out artists in the yoga music genre, from both White Swan's own talented roster and beyond.
Selena selected and sequenced the album's 20 tracks into a mix that she crafted as "a long wave." Beginning with the beloved traditional Vedic Gayatri Mantra (divided in multiple parts here), a slow opening with the resonant metallophonic hung instrument and chants of Ah, it moves gently into flowing mid-paced beats and then a long, slowed down denouement of gentle, exquisite mantras.
"There are so many incredible artists in our yoga world. Placing their music in a mix that is deeply meditative, as well as melodic and uplifting for conscious movement and yoga class, has been so fun and fulfilling," says DubGoddess Selena.
Selena has been the "gateway of music" at White Swan since 2001, after being introduced to Deva Premal's mantra CD at that time. She was already well-versed in new age, chill and dance music through her two decades as a world and electronic DJ at local community radio station KGNU. Ethno-techno and ambient-space music is her expertise. She has DJ'ed for local dance communities in Colorado, including Rhythm Sanctuary and Ecstatic Dance Boulder.
The Artists:
Nadaka & Gopika

The Quebec City native Nadaka developed his fusion style after studying with many teachers during extensive travels in Southern India. On the album Surya, he & his wife Gopika sing a selection of Vedic mantras in dedication to the magnificent source of light and energy that shines at the center of our world. The artists now make their home in San Diego, California.
Benjy Wertheimer & John de Cadet

An award-winning composer, vocalist & multi-instrumentalist equally accomplished on tabla, congas, percussion, esraj, guitar & keyboards, Benjy Wertheimer has performed and recorded with such artists as Krishna Das, Deva Premal & Miten, Jai Uttal, and Walter Becker of Steely Dan. He studied Indian classical music for over 25 years with some of the greatest masters of that tradition, including Alla Rakha, Zakir Hussain, and Ali Akbar Khan. Based in Portland, Oregon, Benjy also performs with his wife Heather as Shantala, and is a founding member of The Hanumen (see below).
John de Kadt appears on numerous recordings and performs regularly throughout the US. He has performed with Glen Velez, Eugene Friesen, Robert Bly, Baba Olatunji, Coleman Barks, David Darling, Jai Uttal, and many others. He has performed live nationally on NBC and PBS. John offers concerts and workshops internationally for festivals, retreats, schools, & corporations. He is appreciated for his percussion talent, humor, spoken word and poetic inspirations.
Deva Premal & Miten with Manose

They met in India in 1990 at the ashram of the mystic, Osho. but musically Deva Premal and Miten come from very different worlds. German-born Deva, classically trained, grew up in an environment imbued with eastern spirituality, where mantras were chanted as bedtime lullabies. Miten, from England, spent the 60's and 70s as a singer/songwriter in the heady world of rock 'n roll, touring with Fleetwood Mac, Ry Cooder, Lou Reed and others. Their shared journey into mantra, meditation and love has taken them from yoga studios to audiences of thousands in concert halls and cathedrals and at music festivals worldwide.
Manose, from Boudha, Nepal, is widely recognized as Nepal's premiere flautist and is the recipient of several national awards, including instrumentalist of the year. Even while living in the United States, he still manages to be a vital part of the music scene back home. His music videos air regularly on Nepali TV, he is a member of one of Nepal's most popular rock bands, 1974AD, and he is a regular participant in Nepal's fledgling jazz festival, Jazzmandu. In the USA, Manose performs and records with Grammy-nominated fusion artist Jai Uttal, The Chicago Children's Choir, singers Krishna Das, tabla maestro Swapan Chowdary, and bluegrass great Peter Rowan. He is also a member of the New Maihar Band, an ensemble created by living legend Ali Akbar Khan. He tours and records with Deva Premal & Miten around the world.
Sean Johnson & the Wild Lotus Band

From Bhakti Fest to the New Orleans Jazz & Heritage Festival, Sean Johnson And The Wild Lotus Band have struck peoples' hearts with their soulful, imaginative music that merges mantras, rock, gospel, and world grooves. The New Orleans-based trio are challenging common perceptions about yoga music, reinventing the soundtrack by merging ancient mantras from India with a vibrant gumbo of contemporary flavors. Regarded as one of the most distinctive in western kirtan music, their dynamic sound has won over fans and transformed yoga studios across America and Europe into thriving concert halls.
Ben Leinbach with Jaya Lakshmi

Ben is an award-winning producer of hip-hop to yoga music, composer, engineer & multi-instrumentalist. He has worked alongside kirtan star Jai Uttal for decades, as well as with many other artists, including celebrity yogini Shiva Rea and mantra enchantress Deva Premal. Jaya says: "I have always loved the combination of tribal trance and house beats with Sanskrit mantra and prayer. I knew I was destined to compose my own electronica music, especially after my experience with my former band, Lost at Last."
Tina Malia & Shimshai

Beyond extensive studio and live work with iconic artists India.Arie, Deva Premal & Miten, Bassnectar, Jai Uttal and Kenny Loggins, singer/songwriter and instrumentalist Malia has produced and engineered her catalog of solo albums. Her 2004 Jaya Bhagavan collaboration with musical prodigy Shimshai met with tremendous success.
Whether playing at large festivals, yoga studios, or spiritual retreats, Shimshai's live performances have helped to create a devoted and ever-growing global fan base. The young mystic has shared the stage with such artists as Michael Franti, David Grisman, Mickey Hart, Jai Uttal, Ram Dass, Deepak Chopra and Bhagavan Das.
Brenda McMorrow

This acclaimed Canadian devotional artist has accompanied Grammy-winning cellist David Darling and esteemed kirtan musicians Jai Uttal, Shyam Das, Wah!, David Newman, Girish and Dave Stringer, and has performed at yoga festivals and major live events across North America, Europe and Asia. Brenda incorporates her Bhakti Yoga Asana teaching into her workshop and retreat offerings. When not on the Bhakti road, Brenda calls beautiful Guelph, Ontario her home.
Bhaktirupa

Arizona-born Bhavani & Ryan Hader are Bhaktirupa, frequenting devotional kirtan circles and appearing on the yoga festival circuit, e.g., Bhakti Fest and Bhakti Yoga Shala in Sedona. Ryan teaches Iyengar-based yoga classes & Bhavani teaches bhakti yoga classes. Teaching nationwide for the past 16 years, the couple now reside in Los Angeles.
Manish Vyas

Longtime collaborator with devotional music star Prem Joshua, Manish Vyas has toured extensively through Europe, North America, India and Asia, with Joshua as well as with Snatam Kaur. Raised in Gujarat, India, he studied tabla with the esteemed Ustad Alla Rakha in Mumbai. His constant openness and experimentalism have expanded his musical horizons beyond tabla and Indian classical forms. Playing santoor, used in the folk music of Kashmir, and employing his remarkable resonant voice, he is also esteemed as a composer with a talent for creating beautiful melodies and rhythms. Many of his compositions have been featured in the recordings of Deva Premal.
Donna De Lory

Donna De Lory is one of the reigning queens of world devotional music. Before dedicating her life to singing sacred mantras and lyrics of spiritual aspiration, she traveled the globe for two decades as backup singer and dancer for Madonna, appearing in the documentary film Truth or Dare and onstage with the pop icon during numerous tours. When De Lory takes the stage, she brings the majesty of pop spectacle to the devotional arena in one big shakti soul celebration, with captivating stage lighting and a tight, groove-centric band beaming bhakti love vibes out to ecstatic crowds. The experience is epic, yet deeply rooted in the heart of devotion. She is a regular at Shakti Fest and other major yoga festivals.
Go-Ray and Duke

Vocalist and composer Go-Ray was initiated into the ambiance of Hindustani Raag in the melody-rich haze of the Thar desert. Producer, composer and percussionist Duke Mushroom's musical path weaves across the majestic purple steppes of Ethiopia. Their creative paths converge at Duke's Harlem studio, amidst an incredible community of musicians and artists. When the two first met to collaborate on music for film, a musical journey began. Each draws inspiration from the other's influences and musical skills. A shared quest for spirituality in the everyday became…Devotional Dub. Today they record for Boulder, Colorado's Black Swan Sounds label.
Ben Leinbach with Prajna Vieira

These two friends met when Ben produced an album by Prajna's kirtan ensemble Mukti, with Prajna as lead singer. For their subsequent collaboration, Amrita, they worked closely together on every aspect of songwriting, performing and producing, blending traditional and contemporary influenes. Their music walks between aesthetic opposites and calls to the Divine in shifting moods of devotion, love, longing, surrender and peace. Prajna has been practicing yoga for over 17 years, and teaching since 2002.
DJ Drez

Black Swan recording artist Drez blends yesterday's roots with today's innovative urban beats. Gradually evolving from hip-hop DJ to world music tastemaker, he is today one of the top DJs and producers in LA's underground music scene. A favorite at yoga festivals and studios, he spins a perfect flow to accompany classes — before lighting up the dancefloor by night with his eclectic, organic mixes. Drez is the musical director of the Wanderlust Spectacular, and is also a certified yoga instructor who teaches privately in Los Angeles.
Masood Ali Khan

Dr. Masood Ali Khan, Ph.D., was born to Indian parents and raised in London. A practitioner of yoga for 20 years and student of acupuncture, Masood was also head of the teaching faculty for Human and Universal Energy for Health and Wellness at the International University for Complementary Medicines in Colombo, Sri Lanka. A musician of eclectic talents on didgeridoo, hand drums and guitar, Masood has seen growing popularity through his mastery of the enchanting metallophonic instrument called the 'hang' (pronounced "hung"), with its ethereal, resonating overtones. With his wife, he offers workshops at major festivals, in addition to his performances of transformational world music infused with prayer and mantra. The artist today is based in Los Angeles.
The Hanumen

Named after Hanuman, the brave monkey warrior-hero of South Asia's Ramayana epic, The Hanumen make music that transports us into a world of mystic poetry, global rhythms, poignant stories, humor and Mantra Music – a soulful, ecstatic celebration of Naada Yoga (sacred sound & vibration) and Bhakti Yoga (love & devotion in a humble mood of service) that enlists an array of unique instruments from around the globe. The band — John de Kadt, Benjy Wertheimer, Gaura Vani, Purushartha Dasa and Jahnavi Harrison — are proud to support (and be supported by) The Call & Response Foundation, a registered non-profit that is devoted to serving and expanding the mantra music community by offering chant practice to one million people by 2020, including incarcerated individuals and people with special needs.
Ben Leinbach featuring David Newman(Durga Das)

David Newman's life took a dramatic new direction when, after graduating law school in 1992, he decided to open a yoga center in his hometown of Philadelphia; among the first of its kind, it created a new awareness of yoga in his community. Soon thereafter, the lifelong musician discovered the ancient form of healing chant music known as kirtan — and began to apply his musical gifts to its powerful practice and to share it with others. Recording and touring prolifically, he's also a dedicated activist for social change, and in 2011 with his wife Mira launched The Stay Strong Project in partnership with Global Green USA. Proceeds from this project have gone to support such environmental causes as the Gulf oil spill cleanup of 2010, and the building of green schools.
Tags :
Allstar
,
Boulder
,
Chants
,
Collection
,
Curated
,
DubGoddess
,
Mantra
,
Mantras
,
Music
,
Selena
,
Volume
,
Yoga
,
Big Data Challenges