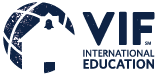 Chapel Hill, N.C. (PRWEB) March 13, 2015
Thirteen projects, including one submitted by VIF International Education, have been awarded a total of $ 1.2 million as part of the Digital Media and Learning Competition's Trust Challenge.
The award recipients, announced Tuesday at the SXSWedu Conference by Richard Culatta, educational innovator and acting director of the U.S. Department of Education's Office of Educational Technology, will develop innovative digital badge systems, data management platforms, digital learning environments, online learning content and related digital tools to foster trust in online learning environments.
"Trust, privacy, and safety are critical to learning in an open, online world, and the winners of the Trust Challenge will help us reach this vision," said Connie Yowell, director of education at the John D. and Catherine T. MacArthur Foundation.
Applicants from 22 countries tackled some of the thorniest issues affecting trust, privacy and safety in online learning. Winning projects, evaluated by a panel of interdisciplinary thought leaders, were selected for their ability to advance trust, privacy and equity in the context of the core values of connected learning, an approach to education in the 21st century that takes advantage of today's abundance of information and social connection.
VIF's winning project aims to promote trust within its online learning center, which features professional development, digital badging, curricular resources and a social community of more than 10,000 educators around the world. By creating a model for peer and expert review of learning products, educators using VIF's learning center will be able to engage in focused review processes and receive ongoing training to build reputations as reviewers.
"We are thrilled to collaborate with Little Bird Games and Edgecombe County Public Schools as we design and implement a model that moves learning artifacts through a graduated system of self, peer and expert validation," said Julie Keane, head of research at VIF. "We plan to implement and test this idea within our professional development system and share the final product with the hope that others will implement it in their own learning environments."
The Trust Challenge is a response to a call to action issued in the 2014 Aspen Task Force Report "Learner at the Center of a Networked World," which sought innovations and solutions that enable people to pursue learning experiences online in an environment that is safe and private.
Mark Otter, chief of strategy and innovation at VIF, participated in the Aspen Institute SXSWedu Summit Design Interactive, a hands-on design thinking session created to open a dialogue on operationalizing the findings of the Task Force. "The task force report highlighted the need for the learner to be at the center of new educational approaches. Innovation plays an important role in the creation of new learning networks to connect learners, both students and teachers, to resources, people and activities," said Otter.
"Mainstream narratives around trust online often turn on fear. This unwittingly undermines the potential for learning online and blocking access to valuable learning resources," said David Theo Goldberg, director of the University of California Humanities Research Institute and HASTAC co-founder. "These winning projects will help in developing a productive counter-narrative drawing on the underlying understanding of connected learning."
Cathy N. Davidson, HASTAC co-founder and director of the Futures Initiative at the Graduate Center CUNY, added, "Trust requires both better tools and better literacy. The tremendous opportunities for learning online are compromised any time our data is misused, stolen, or misrepresented. These winners will add to our digital trust tool kit."
The Trust Challenge is supported by the John D. and Catherine T. MacArthur Foundation and administered by HASTAC, an alliance of more than 14,000 humanists, artists, scientists and technologists working together to change the future of learning.
###
About VIF International Education

VIF International Education builds global education programs that prepare students for success in an interconnected world. For more than 25 years, educators have leveraged VIF's professional development and curriculum, language acquisition and teacher exchange programs to generate engaging learning environments where students can excel in core curriculum as well as develop valuable critical and creative thinking skills. A certified B Corp and 'Best for the World' honoree headquartered in Chapel Hill, N.C., VIF provides a pathway for teachers, schools and districts to become globally designated.
About the John D. and Catherine T. MacArthur Foundation

The MacArthur Foundation supports creative people and effective institutions committed to building a more just, verdant, and peaceful world. In addition to selecting the MacArthur Fellows, the Foundation works to defend human rights, advance global conservation and security, make cities better places, and understand how technology is affecting children and society. More information is at macfound.org.
About HASTAC

HASTAC (Humanities, Arts, Science and Technology Alliance and Collaboratory; "haystack") is an open alliance of more than 14,000 humanists, artists, social scientists, scientists and technologists working together to change the way we teach and learn. Since 2002, HASTAC has served as a community of connection where members share news, tools, research, insights, and projects to promote engaged learning for a global society. Issues of access and equality are as important to HASTAC's mission as the latest technological innovations; creative contribution is as important as critical thinking.
Tags: global-ready, global competence, global awareness, global schools, global education, international education, professional development, curriculum, K-12, e-learning, social learning platforms, professional learning networks, online learning environments, teachers, student achievement, 21st century skills, edtech, education technology, project-based learning, lesson plans, teacher resources, award, recognition
Tags :
Award
,
build
,
Expert
,
Learning
,
Model
,
Peer
,
Products
,
Receives
,
Review
,
Big Data Challenges