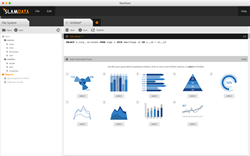 Boulder, CO (PRWEB) November 10, 2014
SlamData, Inc., commercial developer of the SlamData open source project, announced the General Availability of their MongoDB BI/analytics solution.

Installers for the release are available from the SlamData website, or the project can be accessed on GitHub and built from source code. The project is licensed under the AGPL V3 license.
SlamData allows for unrestricted ad hoc queries on data stored in MongoDB. Unlike existing solutions, there is no need to relocate the data or write complicated code. SlamData is the only MongoDB analytics solution to offer 100% in database execution and does not stream data or require extensive data mapping or replication.
SlamSQL, the SQL dialect supported by SlamData, allows anyone to write standard SQL queries against data stored in MongoDB, even if that data is heavily nested or has non-uniform structure. SlamData includes a high-level graphical front-end that makes it simple to build and share reports that pull data from MongoDB.
According to SlamData CEO Jeff Carr, "SlamData is simpler to use and more powerful than any current MongoDB analytic solution. As a result we are seeing significant growth in our user base. Other solutions are limited in flexibility or takes days to set up and maintain."
Continued Carr, "With SlamData you can literally be up and running queries in minutes. And unlike solutions that rely on streaming or other methods to move data, SlamData executes 100% in database and as a result supports very large amounts of data."
SlamData tackles this issue directly using advanced mathematical extensions to relational algebra. SlamData's approach allows full support for SQL queries executing directly on a MongoDB database (or replica set), and also the ability to support much more advanced queries than are possible in ANSI SQL.
The open source project already has hundreds of users. "Simple ad hoc analytics is an increasing issue for data-driven companies including Patheer, says Dennis Harris, Co-founder of Patheer, a company building on MongoDB. Continues Harris, "We have been searching for a solution that will allow us to analyze semi/un-structured data without complex MapReduce and other complicated ETL processes. SlamData has been a breath of fresh air as it allows us to analyze our semi/un structured data by just using simple SQL syntax and executes 100% in MongoDB. Other solutions we tried forced us to relocate our data to new data stores or cloud services which slowed us down and added complexity."
The company's patent-pending technology, invented by SlamData CTO John A. De Goes, is based on a formal generalization of 40-year-old relational algebra called MRA ("Murray"). De Goes is a well-known big data expert and founder of a previous TechStars big data startup.
MRA natively supports analytics on multi-structured data (anything from flat, homogeneous data, to multidimensional, heterogeneous data). Unlike all legacy RDBMS technology, there's no need for ETL or transforming data to first-normal form, and MRA supports everything from simple sums and counts to statistical analysis.
About SlamData:

SlamData is the commercial entity supporting the SlamData open source project. The goal of the SlamData project is to make data stored in NoSQL databases accessible to a broader audience of users, without requiring extensive data replication or preparation as is the norm today. You can support the project by downloading here, or cloning or starring on Github here.
About Patheer:

Patheer is a data-driven analytics platform to engage, develop and retain employees. The Patheer platform encompasses both career research and career planning essentials for companies to help empower employees in the internal career advancement process.

Contact : Jeff Carr jeff(AT)slamdata.com : Twitter @slamdata
Tags :
Announces
,
Availability
,
General
,
MongoDB
,
Open
,
SlamData
,
Solution
,
source
,
Big Data Analytics