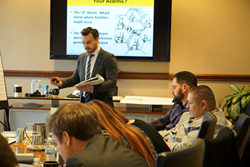 Bennington, VT (PRWEB) March 11, 2015
New Directions, an innovative team-building and leadership development firm, launched their newest service focused on providing an intensive 'boot camp-style' course on organizational leadership. The course, a 2-day immersive workshop, uses the firm's recently published book Survival of the Hive: 7 Leadership Lessons from a Beehive to create a fun, engaging and highly effective retreat for emerging leaders.
Survival of the Hive, published by Authorhouse (2013), launches a new conversation about leadership for organizations of all types and sizes. In the post-recession workplace, organizations need a fresh way to build leaders to ensure their survival. Survival of the Hive uses one of the world's most industrious and successful creatures, the honeybee, to guide leaders on how to build accountability, communicate more effectively, engage and motivate the workforce, and build loyalty and commitment.
Matthew Harrington, a co-author of the book and partner at New Directions, described the reason behind using the recent book to build the retreat-style workshop, "We were getting requests by readers and interested organizations to offer a course that expanded upon the lessons from the book. The book can only take you so far; it was always built to eventually have a workshop that accompanied it for further discussion and growth. Our team thought, 'what a unique way to present management and leadership competencies in a new way by using the book as a foundation and then building from it.' The book, coupled with the 2-day workshop, provides both a fun and engaging way to discuss leadership. The fact is that because of the recession and aging workforce we are experiencing a leadership bankruptcy in many organizations with only 12% of organizations reporting they have the leadership and talent needed in the next five years. The boot camp is a great way to build foundational leadership competencies in a team to ramp up."
Harrington continued, "The Survival of the Hive approach to leadership is focused on using the beehive as an allegory to your organization. What would your new managers need to learn and be competent in for your organization to survive and thrive much like a buzzing and highly efficient beehive? We find that using a metaphor such as a beehive makes the leadership lessons easier to learn, apply and remember on the job.
Deborah Mackin, co-author and founder of New Directions, added this about their new service, "The boot camp-style of workshop is much like a military boot camp except ours focuses more on knowledge and competency building instead of physical skill development. It is an intensive 2-day, 16 hour workshop used to provide the nuts-and-bolts, foundational leadership elements to build up your leaders as fast as we can. Many organizations like selecting some of their top employees ready for the next level of leadership and then using the boot camp structure to get those leaders up to speed quick with practical skills they implement the next day."
The Survival of the Hive Leadership Boot Camp focuses on creating the personal mission, vision and values of leaders; embracing the core leadership behaviors necessary for a transformative culture; understanding what it takes to build a collaborative, team-based work culture; teaching leaders how to establish accountability and delegation through motivation and prompts, learning what is necessary for highly effective leadership communication; teaching how to build a quality mindset to build the perfect product or service; and providing leaders with skills to train their workers to guard against internal and external threats.
Doug Cooper, president of Advocate Construction headquartered in Chicago, just put his top sales leaders through the boot camp course offered by New Directions, "We were excited to use the Survival of the Hive boot camp with our leaders to develop a shared language that makes the lessons learned from the beehive easy for people with all levels of management experience. It was actually a really good time to reflect on the skills we have and the skills we need to develop to position our company for a successful future."
For more information about the Survival of the Hive Boot Camp or other services offered by New Directions visit: http://www.ThinkNewDirections.com
Tags :
2Day
,
Based
,
Book
,
Boot
,
Camp
,
Directions
,
Leadership
,
Provides
,
Big Data Analytics