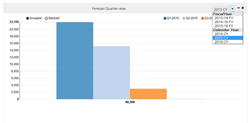 Los Altos, CA (PRWEB) June 08, 2015
Report Automation and Sales Funnel Support Added to SutiCRM 7.0
SutiSoft announces updates to SutiCRM 7.0, its customer relationship management software.
SutiSoft Inc., a trusted provider of easy to use business management solutions, announces new updates to SutiCRM, its customer relationship management software. These additional features help users save time and allow them to implement and optimize their sales funnels.
Report automation: With SutiCRM, users can already generate various reports. With the new update, this report generation process can be automated. Recipients can be configured and the system will generate reports automatically.
Sales funnel optimization: By measuring the time taken and the efforts required to push a lead down the sales funnel, organizations can measure the effectiveness of their operations.
Conditional approvals: Set conditions in your web forms. Configure qualifiers and conditions into web forms to ensure only genuine leads are received.
For more details on our business solutions http://www.sutisoft.com/suticrm/ or contact us at 1.650.396.7203 or e-mail media(at)sutisoft(dot)com.
About SutiSoft

SutiSoft provides a comprehensive suite of cloud-based business management solutions for companies of all sizes. The suite includes scalable and easy-to-use solutions for HR, payroll, employee travel & expense, ERP, CRM, document management, business data analytics, and electronic signature. This allows small, mid-size, and enterprise customers to control costs and save time through use of integrated solutions. Headquartered in Los Altos, California SutiSoft also has regional offices in Germany, India, and Japan. Additional information is available at http://www.sutisoft.com.
Tags :
Announces
,
Online
,
Software
,
SutiCRM
,
SutiSoft
,
Updates
,
Big Data Challenges